Bruce Peninsula National Park is one of the most scenic places in Ontario. The crystal clear water and the gorgeous view of Gerogian Bay attracts thousands of visitors to the park. The park is administered by Parks Canada and is close to the popular tourist town Tobermory.
The park offers
Campground Camping
Yurt Camping
Backcountry Camping
Group Camping
Winter Camping
Campgrounds
The park's main camping area is Cyprus Lake Campground. There are 232 sites in total, divided among three areas – Birches, Poplars and Tamarack. The campsites are located around Cyprus Lake (some close to waterfront, some deeper in the woods). There is a hiking trail that runs along the waterfront. So, if you like sites with more privacy, you are better off choosing a site in the woods.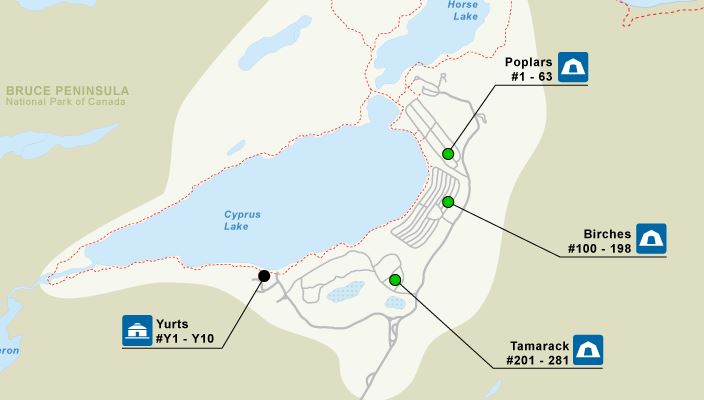 Cyprus Lake and the Beach
Cyprus Lake is beautiful and is large enough for you to paddle. You can rent a kayk/canoe from a nearby outfitter, and they usually deliver it to the lake for a fee.
Yurt Camping
Yurt camping is available near Cyprus lake and is quite popular. There are about 10 yurts available for booking from the month of May till October every year. Yurts are a fun and sophisticated alternative for the actual front country camping – they are pre-setup structures and ready to occupy, they can sleep pretty much a whole family in it (maximum 5 occupants allowed) and you have mattresses, heated atmosphere, propane stove for cooking and nearby washroom facilities. They are also costly (costs around $120 per night)
Backcountry Camping
 Bruce Peninsula National Park has two backcountry camping areas – The Stormhaven and High Dump, both located along the Georgian Bay shoreline, offering scenic views. Each of these two areas have 9 campsites, equipped with a wooden platform. These backcountry sites are open year around, and reservations are highly recommended during summer months.