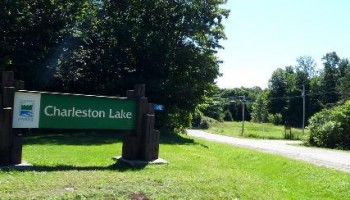 Charleston Lake Provincial Park has the well-earned reputation for being one of Ontario's nicest parks for camping, fishing, swimming and paddling. The park hugs the west, east and south shores of Charleston Lake which stands at 9 miles long and 4 miles wide. The lake itself is full of islands, coves, reefs and the some of the clearest water you will see in Ontario. The scenery is rocky, rugged and full of forest as the landscape is an extension of the Canadian Shield. Great hiking trails, big family friendly campsites, excellent fishing and picturesque memories are just a few reasons to make this your next vacation destination.
Camping
Charleston offers a total of 236 campsites spread out over three campgrounds and interior sites.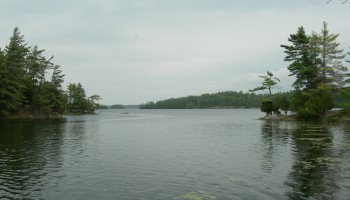 This park also has 4 yurts available to rent as well as one rustic cabin, for those not keen on spending the night in a tent. The Bayside and Shady Ridge Campgrounds are nestled in a mature forest making most sites partially shaded. These two campgrounds are located next to the lake and Shady Ridge Campground is home to the gently sloping beach. It pays to check out the online maps for these two campgrounds as some of the sites closet to the beach offer little privacy. The Meadowlands Campground is just a short walk away from the water and is located in a younger forest therefore offering a few more sunny campsites.
Interior camping is offered through 10 sites grouped into five clusters. All of the sites are located on the interior of the lake's shore and must be reached by hike or water. There is a site for everyone, whether you want to take 10 minutes to hike in, or 2 hours. All of the sites come with elevated tent platforms, a fire pit and a picnic table. These sites are amazing for exploring another side of the park and getting a little extra privacy. If you are looking for remoteness make sure to get the Hidden Cove backcountry site where there is no one else around you.
Swimming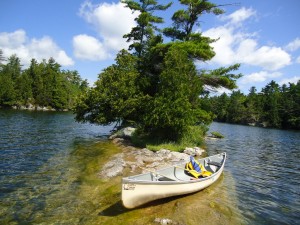 Visitors from all over the world love to swim in the waters of Lake Charleston. That is because the water is so clear and refreshing. The sandy beaches are located at the South end of the lake; one in the day-use area and the other in the Shady Ridge Campground. The beaches do become busy during the summer months with lots of families but luckily there are other options for swimming. Choose to head out to any of the islands and swim off the shores. Or head to the numerous rock formations and try your hand at jumping off of them (note that there are no lifeguards on duty and personal safe precautions should be taken at all times).
Paddling
Paddling around the Charleston lake gives ample opportunity to stop at one of the 100 islands and discover the different shorelines, varying water temperature and depths. You will want a map when you head out paddling on this lake as the numerous coves, inlets and islands can play tricks with your minds. Despite getting lost a few times, this lake offers some of the best paddling out of all the Ontario Parks. The lake offers two sections, one for paddlers and motorboats and the other for just paddlers. Canoe rental are on site and the park offers numerous canoe and boat launches. Paddlers can enjoy the scenic 75km of shoreline decorated with majestic granite and sandstone rock or travel to one of its many islands for seclusion. The lake is covered with an abundance of magnificent flora and fauna to discover, sometimes hidden deep within its coves and inlets. Sea kayaking has also become popular in the lake and kayaks can be rented at the park. If you are looking to improve your portaging skills the lake offers two portages giving paddler's access to Killenbeck Lake and Redhorse Lake. Three lakes, a picnic, life jackets, paddles, a canoe and a sense of adventure is all you need to enjoy a day out on the water.
Hiking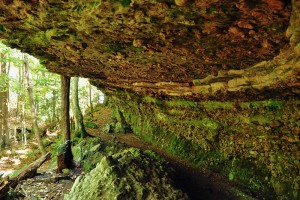 There are a total of 7 marked trails throughout the park ranging from easy to difficult and up to 10km. It is easy to see why so many visitors lace up their hiking boots while in the park. Depending on which trail you choose to hike, you'll pass through wetlands, forests and over boardwalks. The trails all have excellent lookout points either overlooking lake or seeing as far as the Adirondack Mountains in NY State. One of the favorite trails is the Sandstone Island Trail, a 2.6km loop that is slightly difficult with steep climbs. Its sandstone rock overhang, incredible views of the lake and the chance to see a rock shelter that was used over 1,200 years ago makes it all worth it. If you are looking for something a little easier the 2.4 km Quiddity Trail is an easy loop that takes you over boardwalks to a scenic lookout point.
Other Activities
This lake is quite popular for fishing as the varying depths of water, the hidden coves, reefs and connected bays are all home to a variety of bass, pike and lake trout. Being one of the largest and deepest lakes in Eastern Ontario, it is possible to catch some very large pike in the deeper waters. It is worth picking up a fishing map that will tell you where to look for what you want to catch.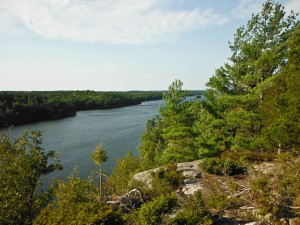 Events run by the Natural Heritage Education Program include guided hikes, evening campfires, children's programs at the Nature Center, stargazing and other special events that happen through the summer. Make sure to stop by the visitor's center in the summertime to see a black rattlesnake.
If you are planning to bring your four legged furry friend along this park has you covered with a pet friendly beach located right beside the Shady Ridge Beach. Please note that they are not allowed on either two of the human beaches.
This beautiful provincial park located in Eastern Ontario is certainly a hidden gem and offers some of the best paddling, swimming and exploring in the area. Make sure to reserve your campsite early as this park quickly fills up. If you are new at backcountry camping this is the perfect place to try it out as the sites are not far from your car. For any family looking for a relaxing but fun-filled camping destination; Charleston Lake Provincial Park is just the place for you. Just don't forget your bug spray.
Explore more parks from our Ontario Parks page
By Lindsay MacNevin