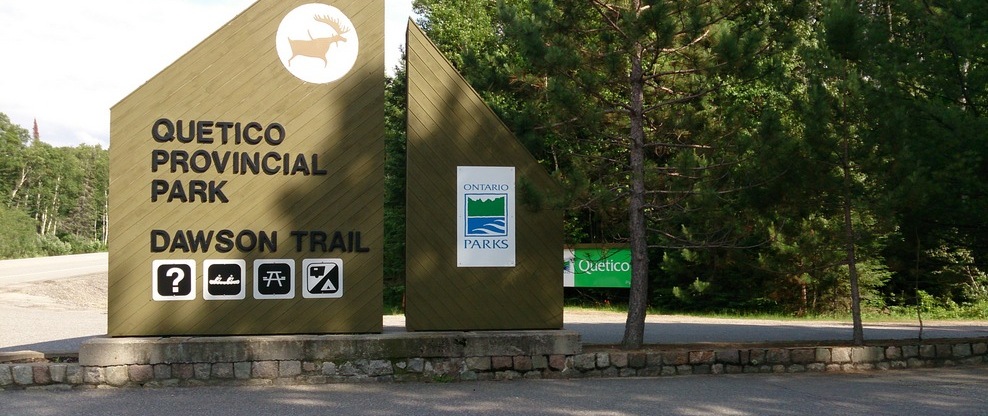 One of the most beautiful parks in Ontario is Quetico Provincial Park. Its absolute stunning beauty is world-renowned and visitors from all over the globe choose to explore the 2,000 lakes and thousands of acres of remote wilderness. In this park you will find majestic waterfalls, rugged cliffs, rivers, lakes, streams and virgin pine and spruce forests. Whether you are planning on spending two days or two weeks here, you certainly won't run out of places to discover.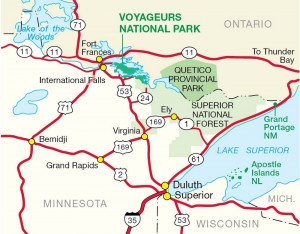 Car Camping
In the north-east corner of the park visitors will find the only car camping sites in the park, this is after all a haven for those looking to fully immerse themselves in the wilderness. Dawson Trail Campground is home to over 100 campsites, complete with running water, flush toilets, laundry facilities and comfort stations. Located directly on French Lake many of the sites are waterfront and we highly suggest booking one of these. Electrical sites are available and this campground invites both tents and trailers. Campers will find a main sandy beach available for use complete with change rooms and facilities. A designated swimming area is buoyed off for your convenience. Also available at this campground is kayak and stand up paddleboard rentals.
Hiking
There is over 35km of hiking trails to explore around the Dawson Trail Campground ranging from easy to strenuous. Hikers should be prepared for boardwalks, footpaths, steep climbs and amazing lookout points. Trails run anywhere from 1km to 10km and the Visitors Centre located at the campground can point you in the right direction depending on your skill.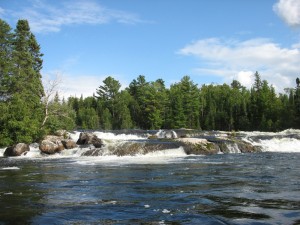 Backcountry Camping
This park is most popular for its backcountry experiences throughout the thousands of lakes and rivers. Wildlife enthusiasts and wilderness explorers flock here to discover the area. Quetico offers over 2,200 interior sites which allows for any length of trip. It is important to note that this is a truly wilderness park and therefore offers no facilities, signs or services. A good sense of direction, maps and an adventurer spirit is needed to conquer this experience.
It is recommended to book five months in advance as there is a cap on the number of permits the park hands out to visitors. Once you have reserved your dates the park will send you confirmation of your approved entry date, ranger station and entry point. It is important to note that this is not your interior camping permit. Your permit must be picked up in person at the designated ranger station before entering the park. If you have not visited the park before please remember that you must enter through your correct entry point.
Backcountry campers must prepare themselves for often long un-groomed portages, unmarked and rugged campsites and no facilities. In turn you will experience some of the most serene and untouched wilderness in Ontario. Many visitors go a full week without seeing another canoeist, many times you will have an entire lake to yourself and more often than not you will hear nothing but silence. Backcountry camping rules are in effect at this park and make sure to leave only footprints behind.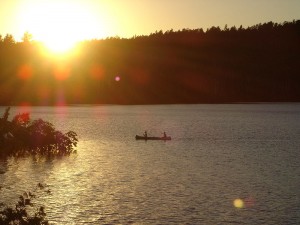 Canoeing
There are literally hundreds of canoe routes you could take to explore the park as there are thousands of lakes and rivers throughout. Most are linked by 550 maintained portages averaging 400 m, although they can be slight unmaintained depending on weather conditions. The most important resource visitors have is the park rangers who can direct on water levels and portage conditions.
Canoe routes can range anywhere from three days to three weeks and there are endless resources online to choose which route you want to take. If you want to avoid as many portages as possible you will want to stick to the larger lakes.
For a challenging backcountry canoe trip complete with a lot of portages you may want to try the Cache Lake Loop that sets out from Baptism Creek. A total of 123km which takes about 6 days will have you seeing 18 lakes and 20 portages. This is truly for the seasoned adventurer who wants isolation, solitude and a quick escape into the wilderness.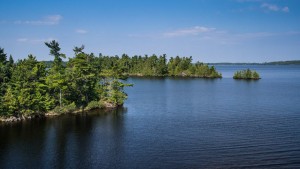 If you are just starting off in the world of backcountry adventure the 4 day Sue Falls Loop which leaves from Cirrus Lake. This 40 mile, 5 lake, 7 portage experience will take you through gorgeous lakes, to views of stunning waterfalls and is perfect for the paddler who wants long paddling time rather than lots of portages.
Fishing and Wildlife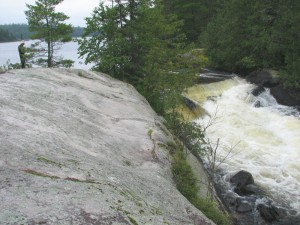 Fishing is in abundance throughout this park and Quetico has been named as one of the top locations in Canada for walleye fishing and smallmouth bass fishing. Northern Pike and Lake Trout are also found throughout the waters. It is important to note that there is absolutely no live bait or dead organic bait allowed in this park, which includes worms, leeches and minnows. Visitors planning to fish must also hold a valid fishing permit from Ontario, which can be bought at any one of the ranger stations.
The wildlife sighting is exceptional throughout the park and if you are lucky you will spot more moose, bald eagles and marine life than you ever thought possible. Visitors can also spot beavers, otters, wolves, bears, loons and over 200 species of birds.
Quetico Provincial Park is a rugged remote wilderness sanction that only sees about 10,000 visitors a year. It is a place to get away from the rat race and enjoy some peace and quiet. The surrounding cliffs, the babbling waterfalls, the smooth as glass lakes and the scarcity of other people make this a truly magical park.
---
Reviews:
Quetico is absolutely stunning. I went car camping at the Dawson Trail access point last summer. The campground is fairly large but it has a small, private feel – and you never get the impression you're camping on top of another group. Access into the back country is also very close by, canoes can be rented for the day to explore French Lake and the connecting Pickerel Lake if you want a feel for the backcountry but aren't yet ready to commit.
I can't wait to go back!
–Katelyn Luff
---
Quick Links:
Go to our Ontario Parks page
Go to our Home Page
Explore Camping Tips & Guides
---