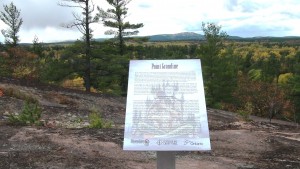 Point Grondine which is part of Wikwemikong First Nation spans some thirty four thousand acres and is the ancestral home of the Anishnaabek (Odawa) of Manitoulin and the French River. The Point Grondine Park has eighteen thousand acres designated as part of Eco-Park, although not as big as neighbouring Killarney Provincial Park, its land mass is not small either. Other than the trails, the land remains undeveloped with a few dwellings on the Mahzenanzing Lake and hunt cabins scattered throughout Beaverstone Bay.
At Point Grondine Park there are a pair of stacked looped hiking trails and a coastal water trail opening to trippers on Canada Day weekend July 3, 2015. Together the 21 km hiking trails represent the beginning of the Georgian Bay Coast Trail — an ambitious plan to link Point Grondine to Bayfield Inlet via a 200-km footpath.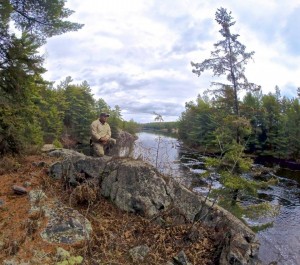 The 6km advanced trail called Merv's Landing rounds a pretty lake occupied with beavers, ducks and other woodland creatures and flows across a walkway built of halved pine logs across marshy shallows and old beaver houses. The pine bridge is more suitable to the park than your typical boardwalk or gravel path. The trail runs on a modest mountain, reaching 256 metres (840 feet), which gives you a beautiful view of the Silver peaks to the west.  Interpretive signage at the Recollect Summit connects you to the history of the ancestral home of the Odawa People of Manitoulin and the French River.
Trekkers are sure to be welcomed by the Trail Guardian who will provide backcountry campers with an orientation prior to their departure.  As you begin your trek along the 21km Wemtagoosh Falls loop you will get a taste of what the hike will be like to the Georgian Bay Coast.  This section is the first leg of the Georgian Bay Coast Trail and is recommended as an overnight hike with plenty of markers to help you navigate.  Between Rock and Mahzenazing Lake the trail designers have installed a unique craft called a Water Spyder.
It is operated manually and runs along underwater cables. This water crossing provides a link between the 6-km Merv's Landing trail and the 15-km, overnight route to Wemtagoosh Falls (Frenchman falls) where the Mahzenazing River tumbles into Cedar Lake.  This rugged footpath flows through old growth pine forest and hardwood stands climbing atop rocky outcrops along the Mahzenazing River and Cedar Lake.  Be sure to be on the watch for bear, white tail deer and moose that call this rugged backcountry their home.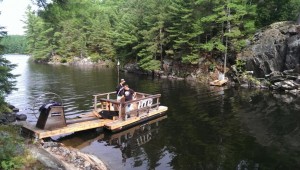 Learn more about hiking in the park from their official website: Hiking at Point Grondine Park
The park itself covers over eighteen thousand acres of land with eight interior lakes that will be part of canoe routes connecting to Beaverstone Bay and Collins Inlet. When open in 2016 canoe trippers could enjoy a paddle starting at Point Grondine weaving and portaging through the interior that connect to Collins Inlet and ending a Chikanishing Creek in Killarney Provincial Park.
The average outdoor enthusiast would definitely enjoy the peacefulness and the relationship with nature that can be built here in the park.  The landscape from neighboring Killarney Park with its white quartzite flows nicely into the marshes of Point Grondine. There is a real connection to its original inhabitants with a sense of spirituality and history here that makes its majestic.  The Making Footprints Interpretive Hike that is offered by the park interpreter "Joe" shares this story and connection to the land through the lens of his ancestors.  The trail systems offer a variety of native species that are used in both practical and medicinal applications of Anishanaabe herbology; applications which Joe teaches from his journey of life long learning.  So whether you're looking for a new outdoor experience or looking for somewhere to reconnect with nature Point Grondine Park is sure to engage your senses and satisfy your hunger for outdoor adventure.
Authored by: Luke Wassegijig, Tourism Manager for Wikwemikong Tourism
---