With age comes more matured beauty – so is true for Algonquin Park – Canada's oldest national park and Ontario's greatest treasure. Spanning almost eight thousand square kilometers between Georgian Bay and the Ottawa River, it's forests, rivers and numerous lakes are home to moose, bears and common loons.
Camping is one of the most popular activities in the park. Setting up a home base at one of Algonquin's many campgrounds and taking your time to explore the park is unarguably the best way to experience everything the park has to offer.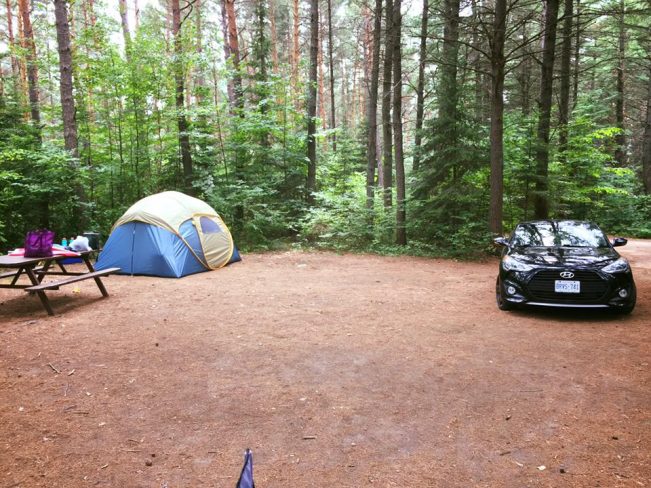 Here is a list of campgrounds in the park and what each one has to offer:
Achray Campground
If you find thrill off the beaten path, you should look no further than Archway campground. Located approximately 50 kilometers down a gravel road off the Trans-Canada Highway, the campground has a very remote feel, and is a starting point for exploring the interior of Algonquin by canoe or on foot.
Being one of Algonquin's smaller campgrounds, it has 45 campsites which are all well-spaced, with many along the waterfront. The campground itself offers beaches, yurts, recreational vehicle campsites, boat launch, campground office, flush toilets, interpretive exhibit and picnic areas, along with a dog-free and radio-free zone.
Many campers come here to explore the spectacular Barron Canyon Trails that looks out over the 100-meter walls of the Barron Canyon (located 13 km east of Achray) or canoe the beautiful Grand Lake.
A trip to Archway does require a bit of a road trip. Folks coming from the west can expect to arrive at Archway 5.5 hours outside of Toronto. While folks coming from the east can expect a 3-hour drive from Ottawa.
Brent Campground
Another great campground for those who enjoy a smaller site in a remote location. Located on the north side of Algonquin Park, this small and quiet campground is 40.5 kilometers down a gravel road off Highway 17 on the north shore of Cedar Lake. This picturesque site, treed with White and Red Pine, offers 30 campsites (some with direct water access). The campground offers beaches, recreational vehicle campsites, boat launch, flush toilets, and two ranger cabins.
This site also has two very unique features: birds and meteorites.
More than 260 bird species have been recorded in the park. Many southern and overseas birders make special trips to Algonquin just to see northern specialties such as the Gray Jay and the Spruce Grouse, not to mention the rich variety of warblers or Algonquin's most famous bird of all—the Common Loon, found nesting on just about every lake.
And the meteorite?
Campers can enjoy a visit to the Brent Historic Walking Trail to learn more about the area or hike the Brent Crater Trail where a meteorite crashed into the earth millions of years ago.
Canisbay Lake Campground
Canisbay Lake Campground has something to offer for everyone. On the shores of Canisbay Lake, just off Highway 60, this hardwood 242-site campground has a different setting than many of the other campgrounds in the park (take note, the trees here are deciduous, making it a beautiful option for fall).
If you're looking for a site with modern amenities, Canisbay Lake is a great option. There are large comfort stations with flush toilets and laundry facilities, and a handicapped accessible shower and toilet – and a quarter of the sites have electrical hook ups. Campsites are located in three separate loops; one with electrical service and one which is designated a radio-free and dog-free zone. Sites can accommodate equipment ranging from tents to larger recreational vehicles.
Now for the fun stuff – at Canisbay, you'll always find something to do. Take part in the special events and programs for all ages, explore the Minnesing Mountain Bike Trail, hike any of the five trails, fish, boat or relax at one of the two beaches – Canisbay Lake proves to be a great family campsite.
Coon Lake Campground
Located 6 km down a gravel road, this small campground is really all about the basics. It has 48 sites and a beach on Coon Lake. Vault privies are located within the campground while showers, laundry facilities and flush toilets are located at nearby Rock Lake Campground. Due to the size restrictions of the campground and the sites, the use of trailer units is strongly discouraged in Coon Lake.
This site is ideal for someone who is looking to embed themselves in nature and enjoy the simplicities of the great outdoors: biking, hiking, canoeing, fishing, or birding.
Kearney Lake Campground
Centrally located on the Highway 60 corridor; close to Algonquin's many attractions is Kearny Lake Campground. Beautifully set in a pine forest, this 104-site campground is great for people who are looking to enjoy nature in a tranquil, rustic setting. The sites themselves are small and without electrical hookup, designed to accommodate tents – but many offer a breathtaking view of the lake and wetlands.
Like Coon Lake, this site is ideal for someone who is looking to embed themselves in nature and enjoy the simplicities of the great outdoors: biking, hiking, canoeing, fishing, or birding.
Kiosk Campground
Located 17 kilometers from Mattawa, Kiosk is the smallest of Algonquin's campgrounds. With 24 campsites and one cabin, this site is ideal for those who seclusion from their neighbours and the city life. The site is very rustic, offering flush toilets but no showers, laundry facilities or electricity.
With direct access to Kioshkikwi lake, campers can enjoy swimming (with access to a beach), boating canoeing, and fishing.
Lake of Two Rivers Campground
Centrally located on the Highway 60 corridor; close to Algonquin's many attractions, Lake of Two Rivers Campground is Algonquin's oldest and best-known site. Beautifully set in White Pine Forest, along the pristine beaches of the Lake of Two Rivers, this campground is perfect for families.
The site boasts modern bathroom amenities, sandy beach with a beach volleyball court and is located in close proximity to Two Rivers Picnic area. The Lake of Two Rivers is home to Splake which is a hybrid of Algonquin's two famous trout species, making it an outstanding fishing spot!
This is one of those sites where you'll get to know your neighbours. You can pitch your tent or park your RV at one of the four camping loops with 241 campsites, over half of which have electrical hook ups. While the sites offer some privacy, they are often quite busy. If you're looking for a more "woodsy" feel, this isn't the site for you. Campers should also note; this site has low site seclusion – traffic noise can be heard at some sites adjacent to Highway 60.
Mew Lake Campground
Located 30.8 kilometers from the West gate of Algonquin Park, along Highway 60, Mew Lake Campground is another fantastic site for those who like the great outdoors AND modern amenities.
The campground itself offers 130 sites and a number of yurts. One hundred of those sites are located in the White Pine Forest while the remainder of them in a more open setting with scattered trees. Flushable toilets, electricity, and water taps are available at many of the sites. The Two Rivers Store located very close to Mew Lake campground entrance has everything you need from camping/fishing supplies, fresh food, groceries, snack bar, souvenirs, bike and bike helmet rentals, bike trail information and more. While access to this campsite is close to the highway, it does make for some noise – so you must be okay with hearing some traffic at night.
Pog Lake Campground
Pog Lake Campground is another large site located just off Highway 60 along a section of shoreline on Pog Lake and the Madawaska River. Sites are very large, dispersed between mature pine trees, and many of the sites have beautiful views. This campground offers almost 300 campsites located in three different zones. Section C, which is surrounded on three sides by water, offers quiet, private, well-spaced sites, perfect for those looking for peace and tranquility, but is a distance to the beach. Section A, which the main beach is located, is the perfect location for families.
In total, there are over 100 campsites offer electrical hook up, and thirty-two campsites are located within a radio-free and dog-free zone. There are three large comfort stations with showers, flush toilets and laundry facilities.
Rock Lake Campground
Situated on Rock Lake, this the perfect campground for canoers, kayakers, and anglers. It's located 8 kilometers south of Highway 60, and while it doesn't offer much to hikers, it is a great spot to set your tent. Located in a pine forest, this campground has over 100 campsites, over half of which have electrical hook-ups. Sites can accommodate all types of equipment ranging from tents to larger vehicles. Two barrier-free campsites are also available.
Overall, the electrical sites are small – but if you're looking for a bit more privacy, while still small, you could try the non-electrical sites. The real advantage to this site is the access to the lake and the scenery that comes with it.
Tea Lake Campground
Tea Lake another small campground at Algonquin. Its location is far from the main hikes and Activity Center, which makes it feel a bit isolated from the rest of the park. However, backpackers and canoeists tend to seek this back out due to its access to the interior of the park.
The campground, with less than 50 sites, is small with basic services – including vault toilets but no shower or laundry facilities.
With access to Canoe Lake, Smoke Lake, and the Western Uplands Backpacking Trail, camping a Tea Lake is a good option if you intend to connect with nature.
By Anneliese Lawton.