Food tips for winter camping
Back in the nineties I was on a portage in Algonquin Park heading from Mouse Lake to Erables Lake. It's a triple threat portage, not huge but a lot of packing and unpacking of the canoes which meant slow progress. For inspiration our food guru Tony told us he knew a great campsite for us to relax and enjoy tonights dinner. Beef Stroganoff. Beef what? At this point in my camping life I was still a cup-o-soup and trail mix kind of guy.
Times had changed. Packing in a box of KD and some ketchup was old school.
There's no doubt, food tastes better when your'e camping. It just does. An apple and a peanut butter sandwich on the trail is a feast. In winter it's even more important when something warm and tasty is a must. So while a box of KD sounds great, a little planning and some new ideas can go a long, long way.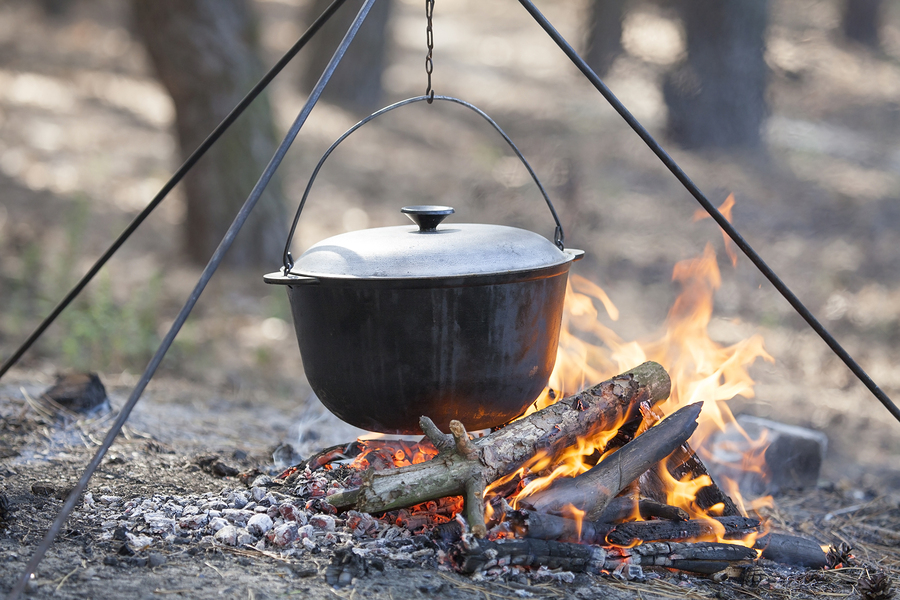 First off, the essentials.
Fat
You'll need some kind of cooking fat or oil. I like butter but you can always bring a small container of olive oil. I bring both. In warmer weather the butter can get nasty and separate. It still works but…
Spices
Salt and Pepper are key. I even found some small lightweight pepper mills to pack in. Curry powder can add some welcome zip to anything and if you're really feeling adventurous, pack some fresh herbs like thyme, garlic, basil or rosemary. Wrap them in a slightly damp clothe and then double ziplock.
Starch
Pasta is great except for the time I crunched all my spaghetti noodles into something that looked like confetti. Now I usually bring something that's easy to adapt to more than one kind of meal like rice or polenta. The easiest by far I find is Couscous. Simple to cook and it works with almost any kind of flavoring.
Breakfast in the Bag
If you can pack in fresh eggs, go for it although if you're camping in really cold weather, they can freeze in the shell.
Take two to three eggs and crack into a heavy duty, zip-lock bag.
Add a little bit of water, maybe one table spoon.
Shake the bag until yolks are broken and eggs are mixed. Be gentle or you'll make a milkshake. Throw in fresh cut peppers, some chunks of cheddar and anything else that works for you. I like ham or a couple or some chunks of Kielbasa.
Place the bag in lightly boiling water and leave it for about five to seven minutes. Make sure it doesn't melt on the sides of the pot. Check if it's firm enough then serve and enjoy!
Another alternative is to pre-mix everything ahead of time and freeze it. Of course you might have to share your sleeping bag with a frozen omelet mix so it's ready for the next day. Your call.
Campfire apple crisp
Really, you'd have to try hard to mess this one up and it's good for breakfast, lunch or dessert. To make it easy, you can pre pre-mix all the dry ingredients ahead of time and chop up the apples on site.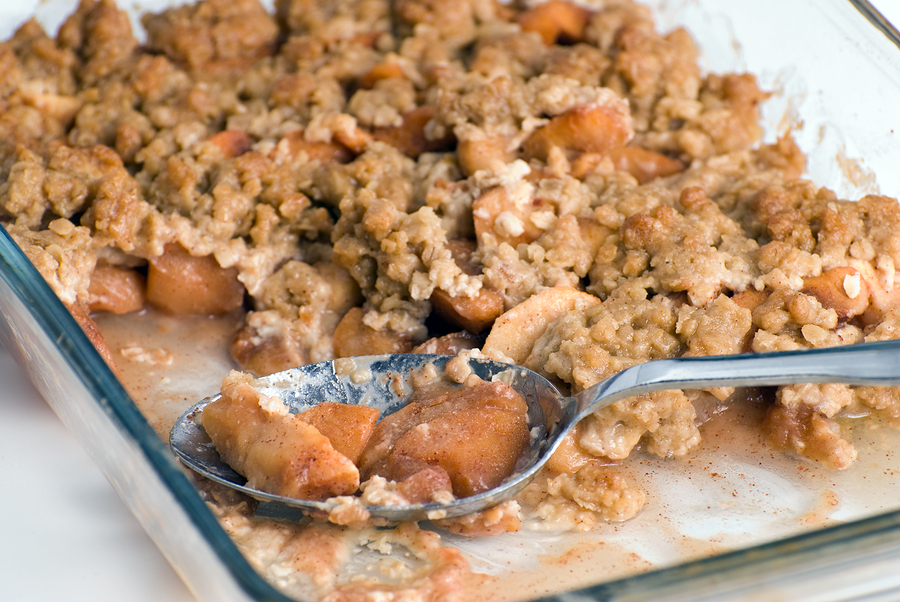 Ingredients
Three to four apples, good sized, chopped or sliced. I like the peel on but it's up to you.
Half a cup brown sugar.
Half to three quarters of a cup of oats.
Half a cup flour. You can use whole wheat or white. I like whole wheat.
A third cup of butter.
One good sized teaspoon of cinnamon.
A shot of lemon juice (not essential)
Some white sugar, about two table spoons to throw in at the end.
Mix everything in a bowl, wrap in tinfoil and place near the edge or your campfire under some coals. Make sure you seal the seams or all the juice will escape. Turn it over every few minutes until things start bubbling. Ready to eat in about fifteen or twenty.
Some like it hot: Chilli Baked Potatoes
I think just about anything tastes great when it's served on a baked potato. Add chilli and you've got a winner. All you do is pre-wrap some baked potatoes in tinfoil and bury them in some coals near the campfire. If you want you can boil them at home for few minutes first to take the edge off. Make sure you prick the skin with a fork a couple of times to avoid the legendary exploding potato.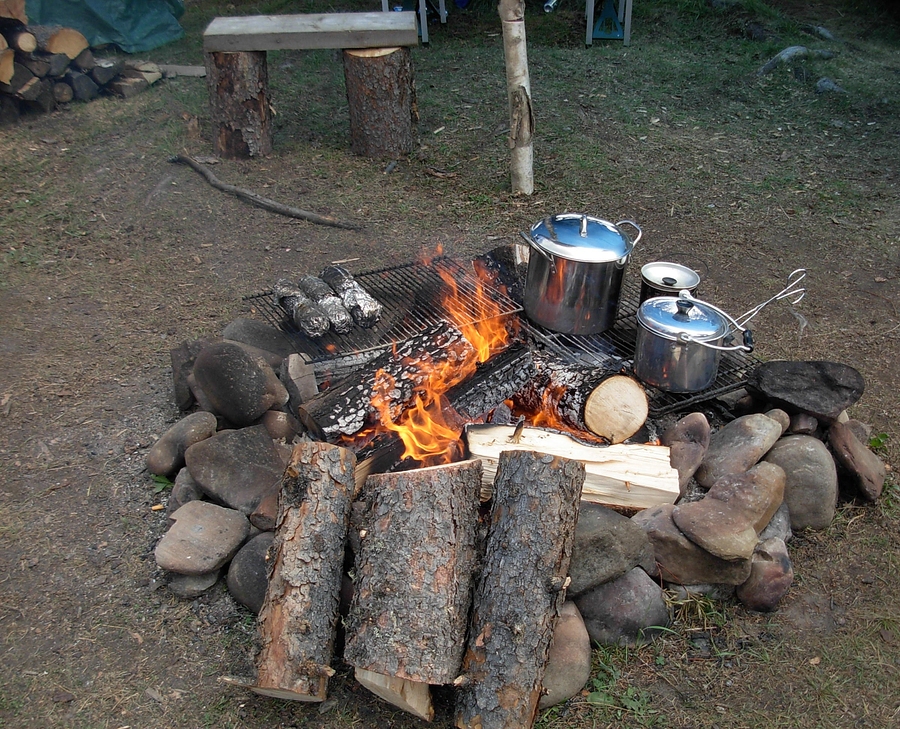 These take a good twenty minutes depending on the heat of your fire. You can top them off with almost anything but I like a package of chilli. You can get excellent entree's that are boil and serve from almost any camping store. A little research and you can find some that have burnable packaging, no garbage and some extra fuel to cook dinner. Bring some extra chilli powder if you like it hot or fresh chilli's if you're a back country gourmet. I like spice and I find most of these are chilli mixes are good but pretty mild. Throw some cheddar on top for an extra kick.
Of course you don't have to have chilli – try butter chicken or beef stew. If you're going vegetarian there's some excellent lentil dishes or vegi-chilli options out there. Camp food has come a long way from soup mixes and canned stew, there is an incredible amount of pre-packaged food options but with a little planning, you can make your own quick meals and enjoy gourmet food under the stars.
By Michael Oomen