Warm summer days in Canada invite us to go outside and live in the present moment. An afternoon of hiking at Murphys Point Provincial Park outside of Perth, Ontario, is as rejuvenating as a day at the spa. My hiking partner and I found ourselves free of work obligations one day, and decided it was the perfect opportunity to hike the Loon Lake Trail and the slightly longer Point Trail. We filled our backpacks with snacks and cans of bug spray, paid the day fee to the ranger who was busy on the first day of his summer job, and set off.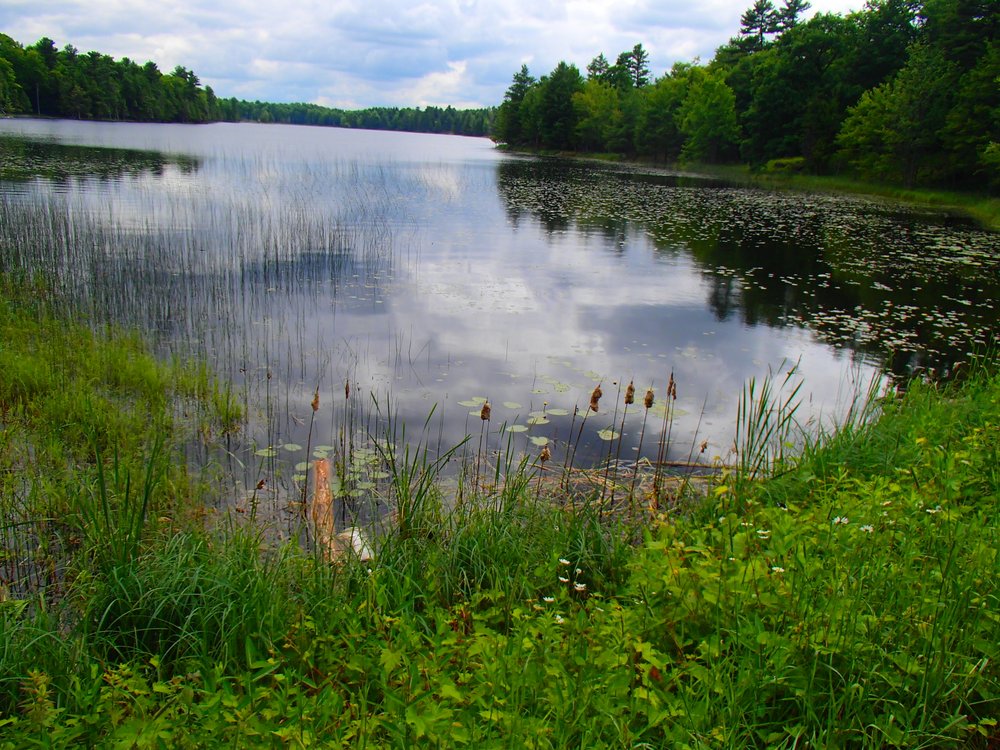 Loon Lake Trail / McParlan Loop
This trail is short (about a kilometre) but if you follow the connections to other paths, it can be made a little longer. It starts as the Loon Lake Trail, then connects to the McParlan House Trail. It also connects to a 6.5-kilometre section of the Rideau Trail, and there is a further add-on to the Silver Queen Mine area.
The path winds through forested areas and wetlands, and in the shadowed light of an older forest, it can be hard to see well. If you think you might be wandering off the path without meaning to, just look to the tree trunks to find the small, blue tags that mark the path. They're placed at roughly human height, and the bright blue colour is easy to spot.
After about a kilometre, the Loon Lake Trail joins the McParlan House Trail. The path widens and the forest starts to look greener and lighter. Rays of sunlight peek through spaces in the canopy and the path slopes gently and evenly. Walking this trail requires minimal effort, and yet your reward for putting one foot in front of the other is scenes of lush greenery. The McParlan Loop is a relaxing path that you can approach at a leisurely pace. Bicycles are allowed on this path, however, so don't zone out too much.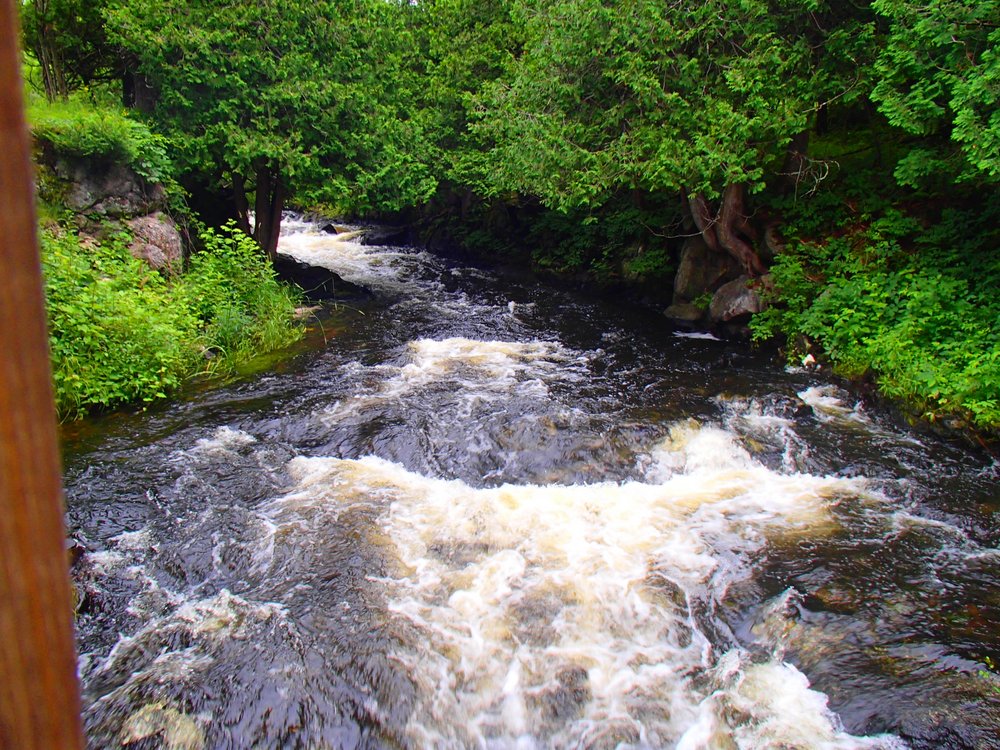 McParlan House is the restored site of an early 1800s sawmill, farmhouse, and summer cottage. It is now a registered archaeological site and a neat place to stop and look around.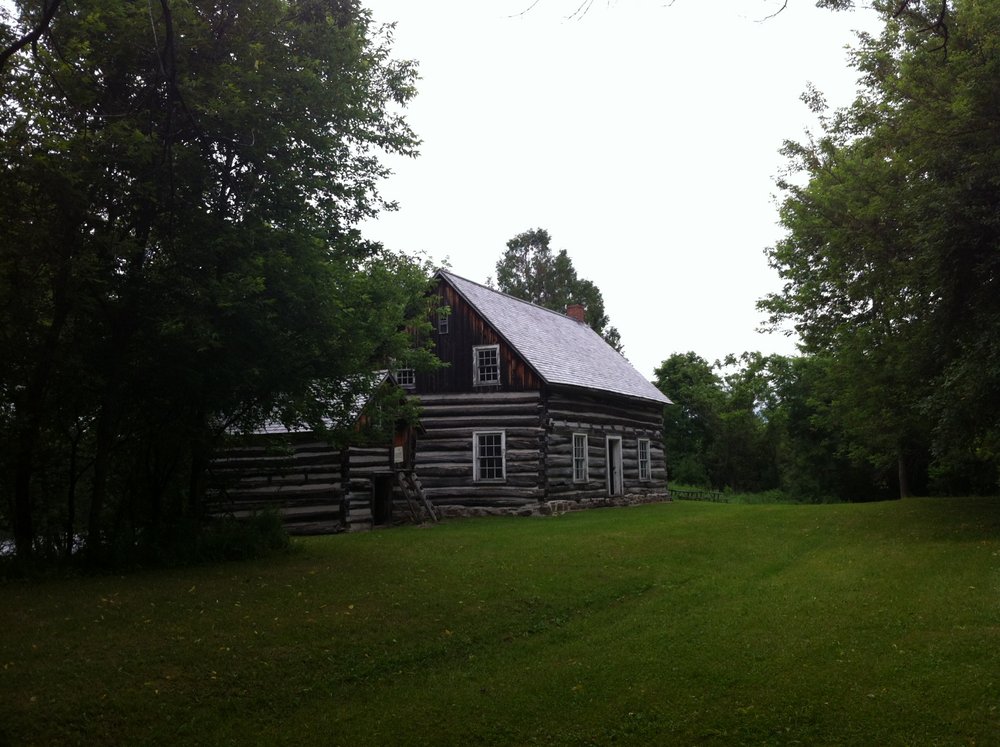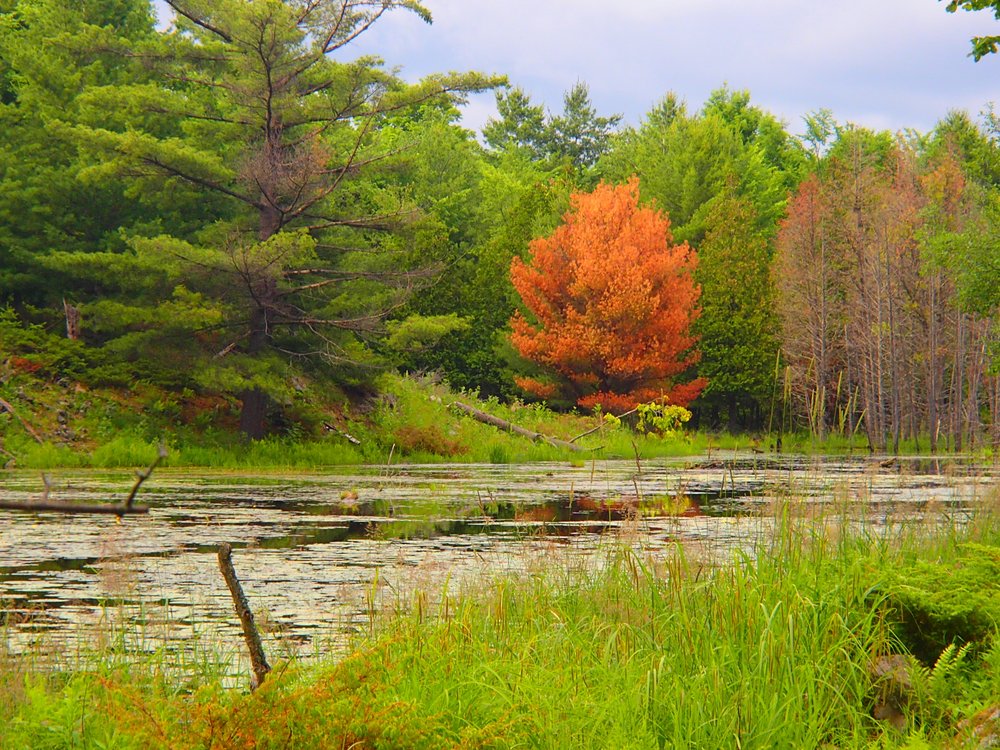 The McParlan House Trail connects to a six-kilometre section of the 300-km Rideau Trail, which connects to trails that lead to the Lally Homestead and the Silver Queen Mine. At this point, we turned around and hiked in the direction of the registration desk. Hearing the mournful call of a loon on Loon Lake brought this hike to a close.
The Point Trail
This trail is about 5.5 km long and is rated moderate in difficulty. Walking at a steady pace, we were able to complete the trail in about two hours. Initially the path weaves through forest, eventually drawing closer toward the shoreline of Big Rideau Lake. As its name conveys, the path leads you to a point – a piece of land that tapers to a point, surrounded by water on three sides.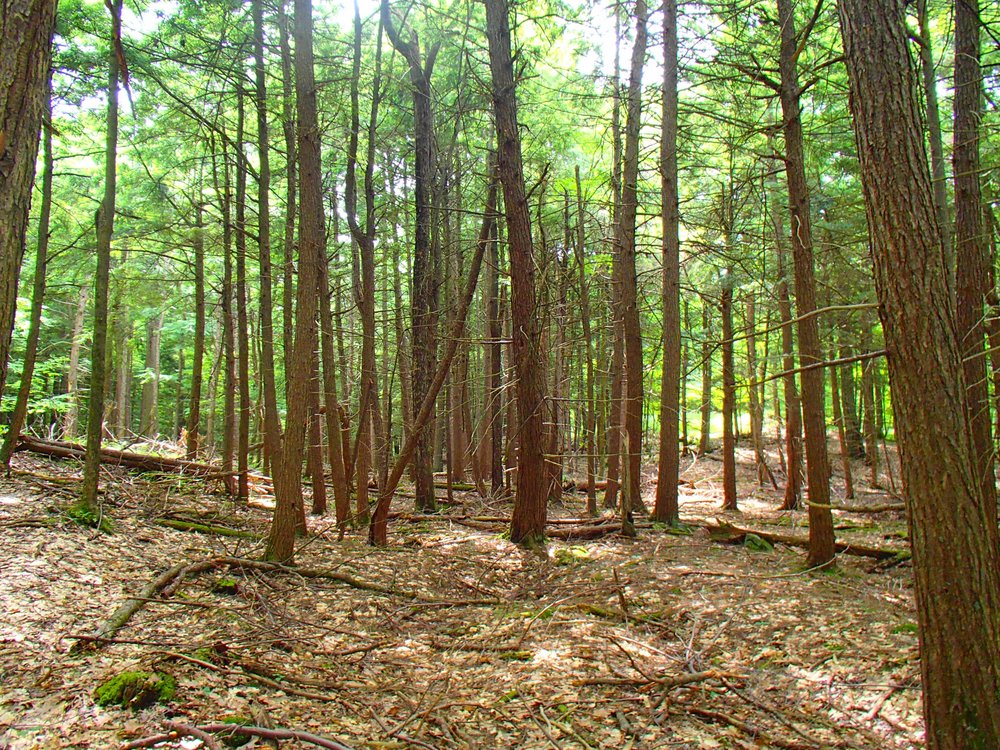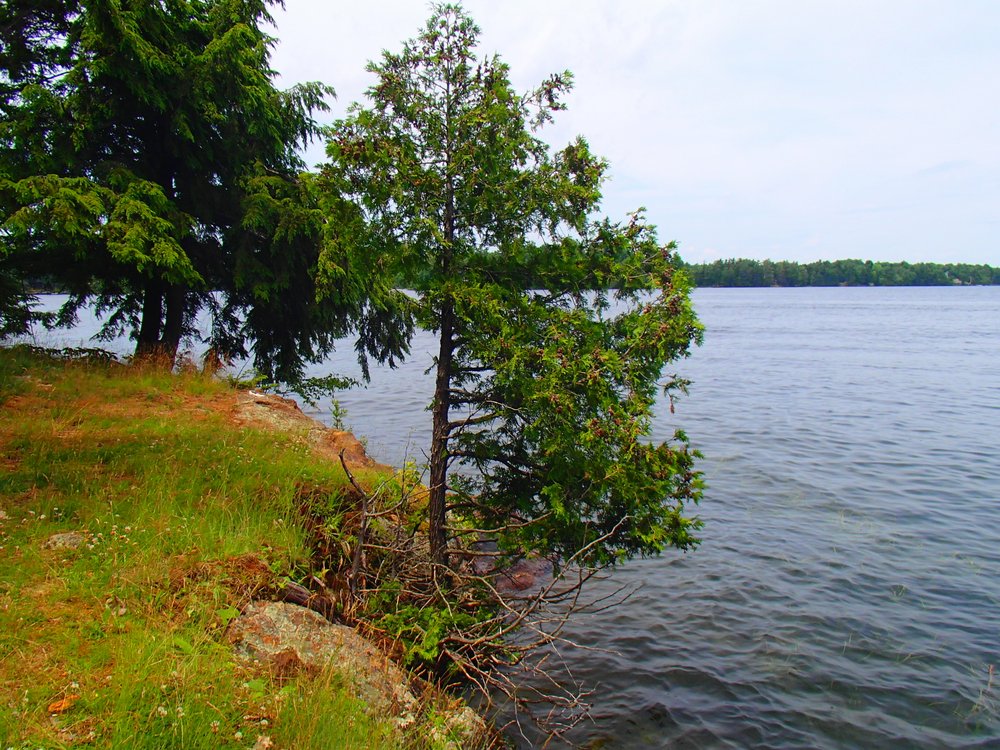 After hiking this trail and soaking up all the lake views I could ever want, I felt restored and ready to return to my urban lifestyle – at least until I need my next dose! It's amazing what a short getaway can do for one's peace of mind.
If you're eager to slip away from the city and spend time in nature this summer, you can't go wrong with a visit to Murphys Point. This unassuming park is packed with a variety of fun things to do and see, as well as lots of space if solitude's your thing. To learn more about activities and history of this park, visit the Friends of Murphys Point web site
Wildlife in Murphys Point PP
Many animals make their home at Murphys Point. The region is particularly known for its snakes, but we saw not one – probably because we were looking for them. Instead of snakes we were treated to sightings of beavers, countless varieties of birds, frogs, the largest bumblebees I have ever seen, squirrels and chipmunks, and turtles. During our drive to the park we spotted a turkey vulture and a heron; as we left, we spied a group of tan-coloured deer in a field by the park entrance.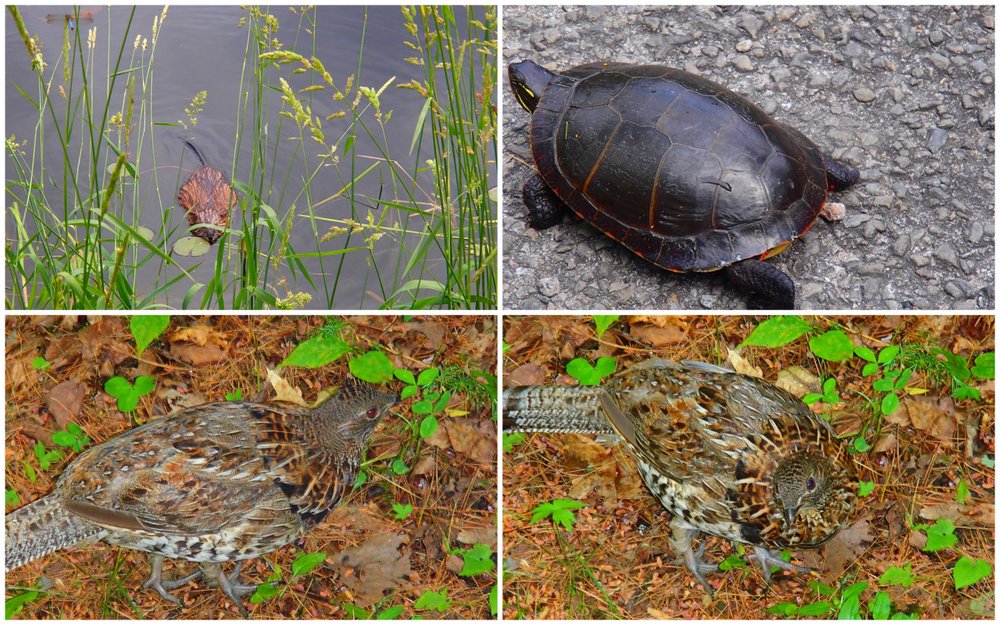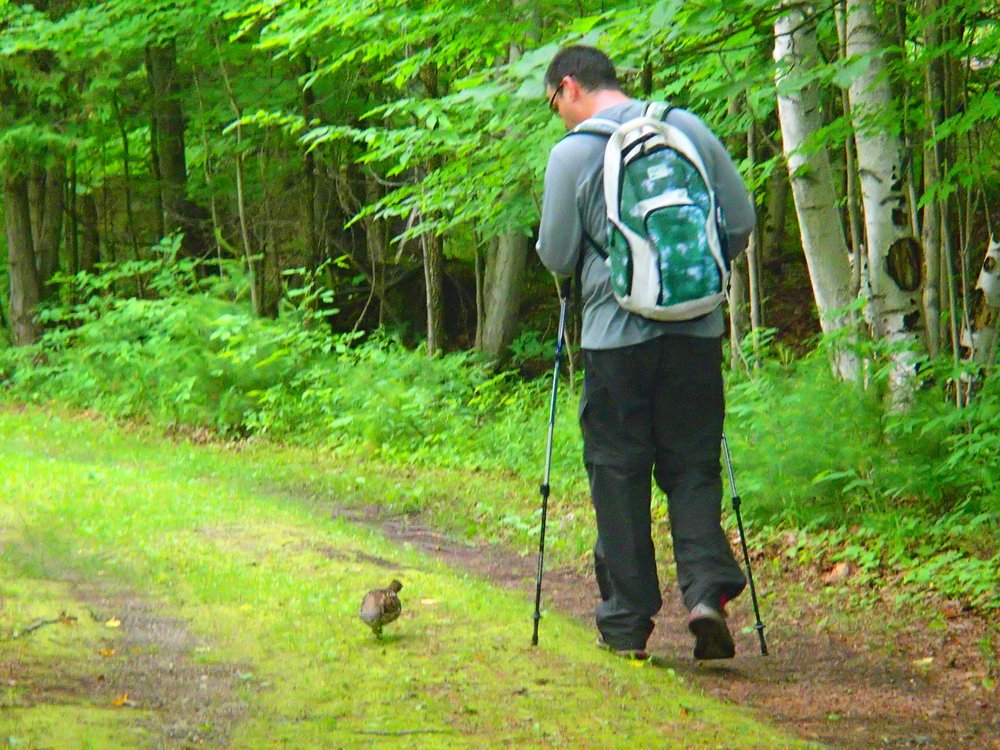 Other Attractions in Murphy's Point Provincial Park
A twenty-minute drive in the countryside south of Perth in eastern Ontario, Murphys Point offers options for exploring on land and the water.
1. You'll find three beaches (the main one is at Hogg Bay), a boat launch, camp sites, forests, ponds and lakes, 20 kilometres of hiking trails, and local historic sites that date back over a century.
2. The Silver Queen Mica Mine, which was in operation from 1903 to 1920, is an unusual attraction and an important part of the history of Lanark County. Guided tours of the mine are scheduled for a few times per week in the summer – check the web site for dates. You'll need to register in advance at the park gatehouse. Or, consider dropping by the mine during the Open House Tours when costumed interpreters are there to tell stories of the old mining days.
By

Natalie King