I have lived in the beautiful city of St. Catharines, Ontario most of my life.  I was born there, raised there and after leaving for a few years of college, returned to enjoy my adult years there.  Not only is the city itself rich in nature areas and things to see and do, but it is located close to many other cities boasting similar features. Being an avid outdoors person, I have spent a good deal of time exploring the area, and today I am going to share with you my favorite places to camp near St. Catharines.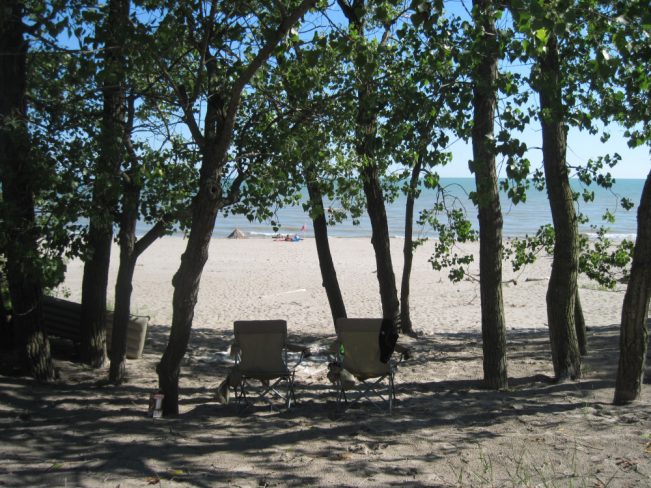 Longpoint Provincial Park
At the top of the list, is Longpoint Provincial Park.  It is not the closest park to St. Catharines, but it is my favorite and worth the two hour scenic drive to get there.  Longpoint is located on the Northwest shore of Lake Erie near Port Rowan, Ontario.  It has one of the most beautiful beaches in the area, stretching 1.5 kilometres.  The campground has a few different sections to it, an older section called Cottonwood has mostly sand sites and down the road you can book sites at the main section of the park Firefly, Monarch and Turtle Dunes.  The park is located within a world biosphere reserve, is great for bird watching, fishing, boating, swimming and on a nice windy day, it's popular for kite boarding. I personally love getting up for sunrise, as the sun comes up right over the lake at Cottonwood beach and you can get some stunning photographs.  It is also the best time to enjoy your surroundings, no one is out and it is extremely tranquil at that time of day! There is something to do for everyone at Longpoint and if you haven't been there, I highly recommend a visit to check it out further!
Rock Point Provincial Park
Along the Lake Erie shoreline, there are quite a few other parks that are great for camping.  My next favorite is Rock Point Provincial Park. Rock Point is located in Dunnville, Ontario, a little under an hours drive from St. Catharines and covers 1.87 square kilometres.  It is also near the Grand River and in the Carolinian zone. Rock Point is a beautiful park with lots to offer its' visitors including wetlands, a sand beach, forests and dunes.  The park has a few trails for hiking, a nice playground for the kids, a store with cooked and uncooked food available, and grills you can rent nearby. The park hosts a number of interpretive programs including both day and evening activities.  Most of the sites are big and private, but take note that the park is also known to host quite a few younger party type campers in the busy season and on long weekends.  My favorite thing to do at Rock Point is to walk along the rocky shoreline to look for fossils, crayfish and interesting little creatures that live in the small holes in the rock and in the nooks and crannies of the unique surface. You could spend hours exploring there and I find it very fascinating. I have both camped at Rock Point, and done day trips there, and always enjoy the natural beauty of the park.
Port Burwell Provincial Park
Just past Long Point Provincial Park is a lovely gem called Port Burwell, located in Port Burwell, Ontario, approximately two hours and fifteen minutes from St. Catharines.  Although I have yet to visit this popular park, I have many friends who frequent it and have nothing but great things to say about it.  Port Burwell has hiking trails and a long clean beach, but you do have to drive to the beach, or walk, approximately ten to fifteen minutes via the hiking trail to get to it.  It is considered a family campground, has a fantastic play area and the sites are large and well treed. Port Burwell is also one of the best places to view the birds of prey during the fall migration.  I will definitely be making a point of visiting this park in the near future, as I have been wanting to go there for quite some time now.
Turkey Point Provincial Park
At a driving time of approximately one hour and forty five minutes from St. Catharines, you will find Turkey Point Provincial Park.  When I was a teenager and in my early twenties, this was one of the parks I camped at quite a bit.  From the current reviews I've read, it would seem the partying crowd is still quite prevalent in this park, so keep that in mind when considering a visit there.  Turkey Point is the only provincial park that has a golf course and also boasts three hiking trails.  The sites here are well treed and large, however, they are mostly sand/dirt based, something to take note of if you are looking for grassy sites. I personally enjoy sand sites, but I am a beach lover, other people may not prefer this type of surface. There is a nice beach nearby that you can drive too, but due to it's popularity and that it is a public beach, it can become quite crowded.
Long Beach Conservation Area and Campground
A few years ago, I missed out on booking a site for the August long weekend at Long Point Provincial Park.  A group of us had an 8 year run of camping there annually, but, as Long Point is an amazing park, the sites are booked very quickly, especially for a long weekend.  We still wanted to head out in that direction, and as a last resort booked a site at Long Beach Conservation Area and Campground.  Instead of the two hour drive, it takes only about forty five minutes to get there from St. Catharines. The drive is still scenic and the traffic isn't bad on a long weekend, but the differences in the beach and park are noticeable.  We still greatly enjoyed our time at Long Beach and I would recommend a visit if you are looking for a nice place to stay along Lake Erie on short notice.  The beach is small and let's just say natural, but if you're not too picky, you will enjoy it regardless. Many sites are a decent size, but most I viewed were not well treed or very private. Some fire pits did not have grates or rings on them either, so you should also be prepared for that if you plan on using the fire to cook on. As long as you don't expect too much, you will still enjoy yourself at this park and it was definitely a suitable back up park for us.
Rondeau Provincial Park
Last summer I visited Rondeau Provincial Park for the first time. I had found it on a list of Canada's top 25 campgrounds and as it is only a three hour drive from St. Catharines, I thought it is one of the parks I should make a point to visit. Rondeau is the second oldest provincial park and is located in a town called Morpeth, Ontario.  Rondeau is known for it's excellent hiking, biking and rollerblading opportunities. There are six trails in total and the park offers lots of activities for people of all ages including, birding, boating, swimming, fishing, hunting and winter activities.  The sites are very open and the feel there is more of a family camping experience with wilderness opportunities nearby, than the actual feeling that you are camping in the forest. The park also boasts eleven kilometres of beach with eleven accesses, however, during my visit, the water levels were up so high that there were only a few small areas of beach available.  If this is the main reason you are visiting Rondeau, I would suggest a call to the park to check the current situation. If you are looking for a great family campground with a large variety of activities, Rondeau is a place you should check out soon.
Selkirk Provincial Park
About halfway between Turkey Point and Rock Point is a small provincial park called Selkirk.  It is less than 75 Hectares in size, but offers visitors a quiet campground with large open grassy sites along the Lake Erie shoreline.  Selkirk has two beaches, one small beach near the picnic area and a larger beach that is more natural and pebbly.  There is also a 1.5 kilometre trail here to hike on that goes through a marsh wetland via a boardwalk.  I have heard great feedback on this park and am looking forward to checking it out soon in the warmer months as I have only visited there in the winter.
I hope you have enjoyed my list of favorite places to camp near St. Catharines. As you can see, there are lots of awesome campgrounds to spend a weekend at, or even just a day exploring what nature has to offer. Whether you love to hike, bike, swim, or just relax by the water with a good book, these parks have something for everyone. Pick a date, book a site, and get out there and enjoy what this beautiful area has to offer!