Elora Gorge: Tube, camp and hike in Ontario's first official park of its kind
If you're a water-lover and a thrill-seeker, then camping at the Elora Grand River Conservation Area is the weekend site for you. Bring your sunscreen, bathing suit and water shoes. Thanks to The Grand River rushing through the Elora Gorge, tubing is the activity of choice here, for those brave enough to try it. Picture white-water rafting (in quieter waves) while sitting on a giant inflated inner tube with no paddles to control your direction.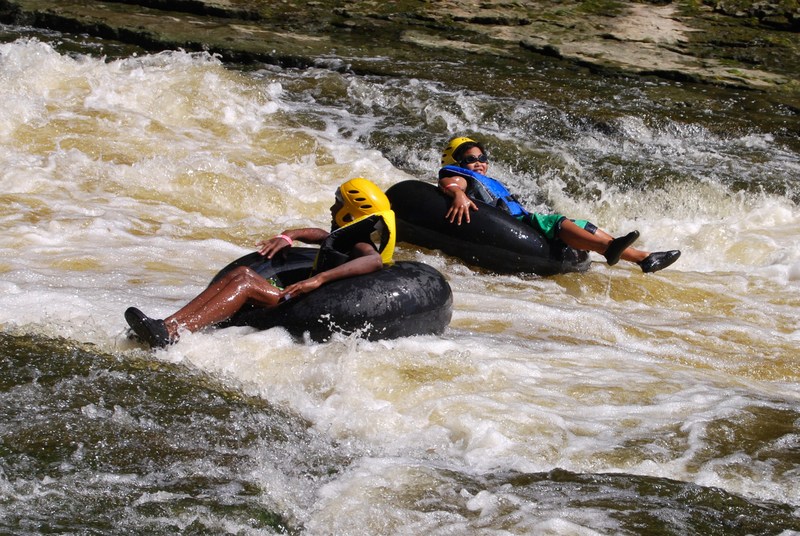 This is no Lazy River water park. It's nature at full force. Bouncing down the rapids is a rough ride, not recommended for kids. You have to wear helmets, lifejackets and a wristband indicating you paid your fees at the concession stand ($25 for equipment rental). Water shoes are recommended, and don't wear sunglasses – you will lose them.
A shuttle bus takes people from the concession stand to the point of entry every 35 minutes in July and August. There are no lifeguards or staff along the route, yet the adventure is remarkably popular and equipment sells out during peak season. You start from a shallow pool of water at the top of the river, bounce down the decline over rocks and small cascades then shoot out into calmer waters where you float quietly in the river.
For traditional campers, the park offers both day passes ($3 to $6) and overnight campsites (145 serviced with water and electricity) ranging from $35 to $40 a night for up to six people. This conservation area is very family friendly, has a ban on alcohol and permits dogs. This park, part of the Grand River Conservation Authority system, is often referred to as the Elora Gorge by locals.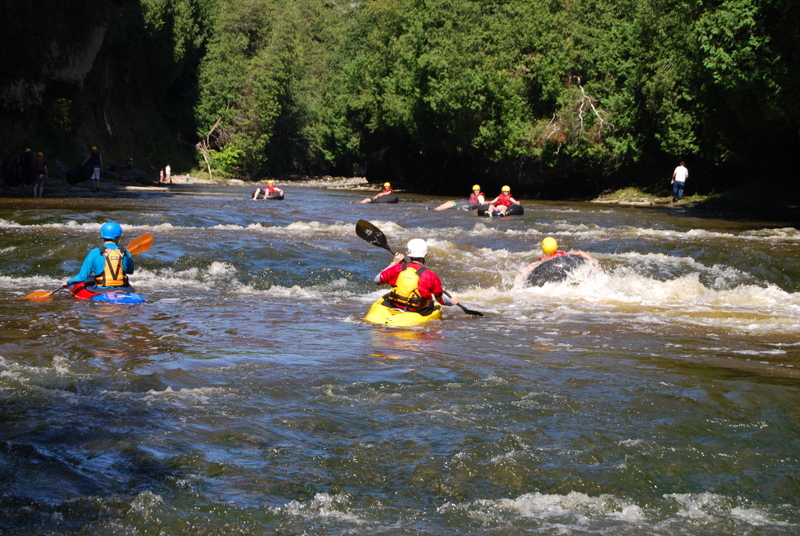 Further down The Grand River, you can canoe or kayak below the gorge, or fish for brown trout almost anywhere between Fergus and West Montrose (home to a covered bridge). Cyclists might be interested in the nearby 40-kilometre Elora-Cataract Trail that runs from Elora to the village of Cataract along the Credit River.
Established in 1954, the Elora Grand River Conservation Area is Ontario's first official park of its kind. Of course, some things have changed. The swimming area, originally dammed more than 50 years ago, is no longer because it's being allowed to renaturalize according to current environmental standards. The park has added an 18-jet 2,000 square-foot splash pad, much safer for little ones than the river. Admission to the conservation area includes entrance to the Elora Quarry, a five-minute drive away.
The Elora Quarry (not dog friendly) is an extremely popular swimming destination. The former limestone quarry (hence the name) is .8 hectares (2 acres) of water surrounded by 12-metre (40 feet) high cliffs and some sandy beach along the water's edge. It's deep and open for day use only. Small wooden change rooms and bathrooms are on site, but no concession stand.
In my outdoor world, if I can't take the dog, I don't want to go. Fortunately, the conservation area is pet-friendly (though leashes are required, officially). I've spent many weekends here, picnicking and hiking – walking actually – with dogs. The park's camping sites with water and electricity service are close together. However, there are enough picnic areas in secluded spots to keep dogs away from sight, and complaints.
From May to October, the gorge offers an easy scenic three-kilometre walk along clearly groomed paths. Stairs with railings make climbing the banks much easier. A scenic overlook at the top of a 22-metre drop offers a clear view of waterfalls, trashing rapids and the occasional tubing enthusiast hanging on for dear life. If you're not rafting, bring a camera.
Elora Grand River Conservation Area highlights:
Tubing rental and launch site
Food concession stand near tubing rental building
Firewood for sale
Showers with flush bathrooms (one in campsite area)
145 campsites serviced by 15/30 amp electricity and water
20 campsites with 15 amp electricity
312 unserviced campsites (check in after 2pm and check out after noon)
3 kilometers of hiking trails with safety barriers in some spots
Views of 22-metre high cliffs
2 picnic pavilions for large group rental
No alcohol allowed on site
Dogs allowed on leash
By Sherri Telenko