Spring Break Family Getaway to Mew Lake – By Josh Spina.
You're going where?
While most of our friends and family flew South for the March break, seeking reprieve from the harsh Canadian Winter, we packed our snowshoes and headed North. We had camped extensively throughout the Spring, Summer and Fall but until this point hadn't previously ventured out together winter camping as a family. This new and exciting family adventure was born purely out of chance. While browsing through the "Camping Ontario" facebook group I stumbled upon a yurt cancellation. I knew if we wanted to try yurting out, we'd have to make a quick decision because yurts are extremely popular especially during this time of the year. With the yurt booked for 5 nights, and our children screaming out loud with excitement, my wife and I wondered what exactly to expect.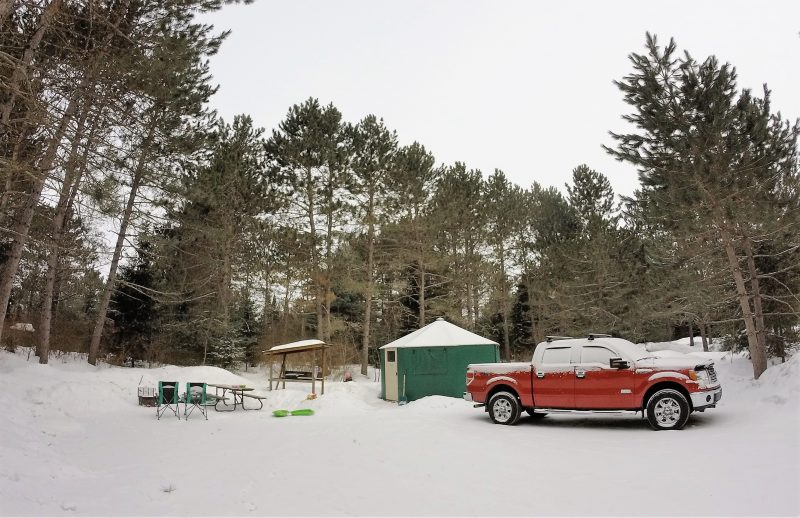 A Yurt? What to bring?
We started off by polling the online camping community, who quickly responded with suggestions on what to bring yurt camping, how to entertain the kiddos, and what to do within APP during the winter season. I guess the first thing to quickly discuss is…what's a yurt. Yurts are eight-sided, semi permanent tent-like structures mounted on a wooden deck floor and are heated electrically. These structures can sleep up to 6 people comfortably and are accessible by vehicle at the Mew Lake campground, as well as several other Provincial Parks in Ontario.
Accommodations generally come equipped with a couple bunk beds, table/chairs, interior lighting, shelf, basic dishes, interior/exterior receptacle, picnic table, fire pit and outdoor BBQ (BBQ and dishes not always available during winter months). As for what to bring, I'd suggest anything you would normally while car (tent) camping. We brought the usual camping items, such as pots/pans, sleeping bags, blankets, water jug, cooler, utensils, fire making kit, headlamps, camping chairs, axe, rope, tarp for firewood, camera gear, warm clothing/toiletries, food for the week and of course some of the kid's favourite toys/books. A few items we wouldn't normally bring but did were (base) bed sheets, a small electric heater, electric kettle, slippers (cold floors), electrical cord/powerbar, small portable propane bbq & stove, kids sleds, snowshoes, shovel, bird seed (lots of birds!), ice skates, and two complete sets of winter gear for kids because they play outside the entire day and get soaked. For more details, visit Algonquin Park Yurts.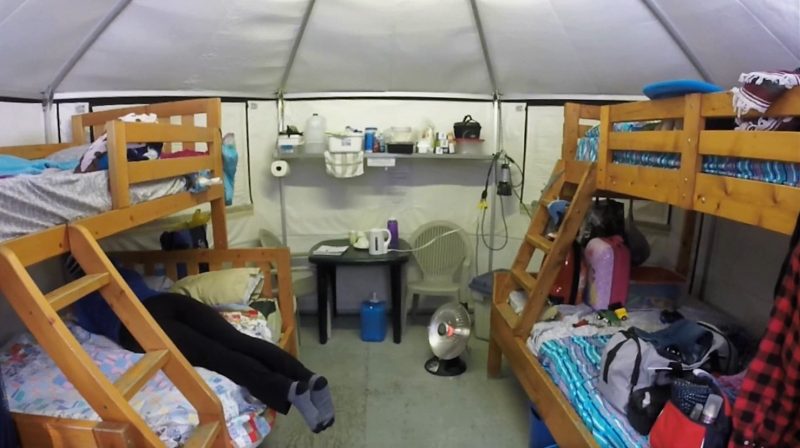 Locked and loaded
With the truck packed we were excited to get out on the open road. Unfortunately living in Canada's deep south, it would take us 7+ hours to make the drive up to the park. Of course making the almost mandatory stops at MEC and Sail on the way up added slightly to our travel times. We ended up leaving a day early and spending the night at a hotel in Barrie to cut down on the stress of driving straight thru with the children, and to take advantage of an early arrival time within the park. Yurt check in time is 3pm and checkout is at 11am. We enjoyed the morning exploring the park, before checking into the yurt at Mew Lake. The kids played outside, while I unloaded the gear/started a fire and my wife set up the interior of the yurt. We enjoyed a simple sandwich and soup dinner and sat around the bonfire as a family.
What to do?
Our family was truly looking forward to taking in some of the sights, sounds and experiences Algonquin has to offer during the winter. With the (seemingly always) inconsistent winters we have in Southern Ontario, the kids were super excited to have plenty of play time in the snow. We were happy to see them enjoy the outdoors from breakfast to dinner, whether sledding around the campground, to digging forts in the snow mounds around the campsite, to skating on the awesome outdoor ice rink. The Park staff (Harvey & company) does an excellent job maintaining the rink for the kids, and puts a great deal of pride/care into it. The rink is always a hot spot with the youth skating and playing hockey at all times of the day. The parents aren't roughing it while watching the kids skate laps either! There is a rink side hot tent and group fire pit to keep warm while sipping a beverage or two.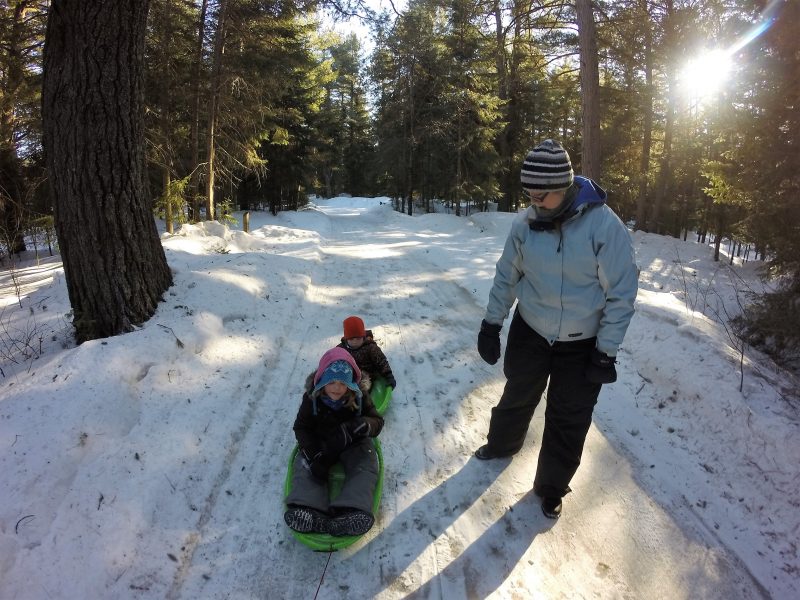 Anytime you visit APP you're more than likely to stop in at the Algonquin Visitor Centre. In my opinion this is one of the best visitor centres within the provincial parks system and the kids absolutely love all the displays. Nearby we hiked the Spruce Bog Trail, and snowshoed the Logging Museum outdoor trail (museum interior closed for the season). Both trails are very easy but beautiful. A nightly relaxed walk through the campground and along the frozen lakeshore after dinner was also a great way to wear the kids out even further. Like many we had a chance to spot the local Pine Marten, feed birds from our hands, and were lucky enough on our last night to hear a wolf pack howling while we sat by the bonfire. Just as in the warmer months there are an incredible amount of outdoor options to choose from. You just don't have enough time in a week to experience it all, so don't over pack your days and just come to the realization that you'll be back again (and again) to pick up where you left off.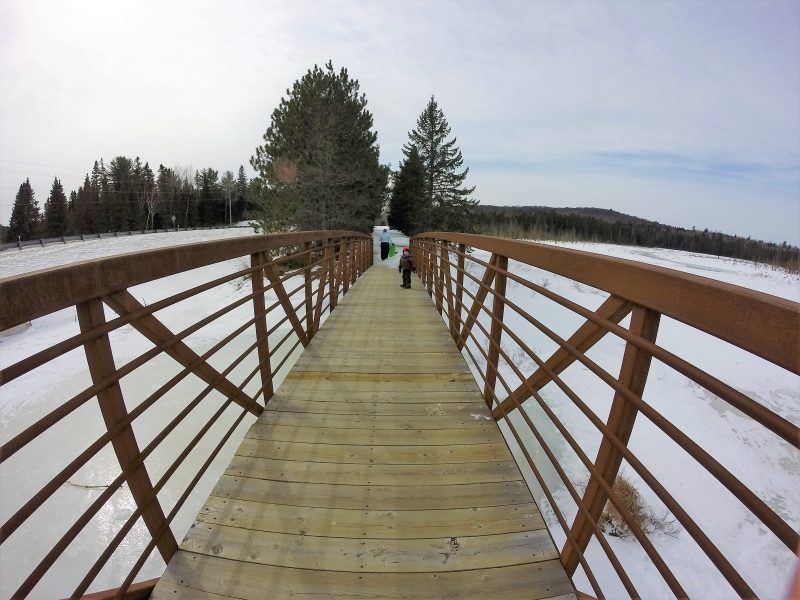 The Weather
Like any other camping trip you've ever been on in the past, you just can't guarantee what type of weather you will have so plan for anything and everything. In our case we really did luck out. The weather was nice and cold as expected (-10c day time high/-21c night time low), but also extremely windy for a couple of the days. The yurt was colder than expected at night and we had to make adjustments to our sleeping attire (that howling wind sure didn't help). The kids slept better the second night with thermal underwear and toques on. We received a light dusting of snow two of the nights, which added to the fun and beauty.
Overall thoughts
The accommodations were very neat, comfy, and it was a fun experience overall sleeping in the yurt. Kids definitely loved their bunk beds and all the outdoor playtime in the snow. The park staff was extremely friendly, and even put on a staff/camper lunch one afternoon, with chilli (moose), hot-dogs, cookies and refreshments. The rink side bonfire and warming station (hot tent) was a nice bonus. It was great to chat with other campers from around Ontario, and exchange stories. Winter camping was definitely a fun (but totally different) camping experience you should try at least once. We have made it a point to winter camp at least a couple times each season and have since then also spent a week winter camping at Point Pelee National Park in their new oTENTik campground bringing in the New Year. In the very near future we plan to revisit APP for another week to pick up where we left off. We aren't exactly ready for our own hot tent or cold tent purchase but eventually we'll get there. Until then renting a yurt or oTENTik is a great way to expose our children to a true winter experience.
Feel free to follow our ongoing family camping adventures on our facebook page CanYak Family Adventures Blog and on Instagram @canoe_kayak_family_adventures.
Full trip facebook photo album can be viewed here.
All photos and trip report by: Josh Spina.