What is 'Healthy Parks Healthy People' ('HPHP')?
Started in 2000 by Australian park agency Parks Victoria, Healthy Parks Healthy People is a worldwide movement that works to promote and understand the link between a healthy environment and healthy society. Research shows that access to nature and green space plays a vital role in physical and mental health, well being and development. In 2010 Parks Victoria hosted the first International Healthy Parks Healthy People Congress, which brought together 1,200 participants from 37 nations to explore the many ways nature and parks significantly contribute to our health and well being. Ever since, the movement has gained global attention and has been adopted by various environmental and national parks organizations around the world including the US National Park Service and EUROPARC.
Free day use on Ontario parks on 17th July 2015
This year, Ontario Parks has joined the HPHP campaign in promoting the connection between nature and human well being. To start with, the organization is offering free day use for all the visitors to its 300+ provincial parks on 17th July 2015.
Special events in Ontario Parks
In addition to the free day use promotion, Ontario Parks is also hosting special events across many of its parks on 17th July. Here are a select few that is worth taking a look
A guide to planning a backcountry canoe trip, Algonquin (1:00 PM- 3:00 PM)
Have you ever wanted to do a canoe trip in Algonquin Park but were unsure of how to plan for one? Join a skilled canoe tripper with years of Algonquin backcountry experience – to see how to plan for a successful canoe trip
A guided mine hike at the Silver Queen Mine, Murphys Point Provincial Park
This 60-90 minute guided hike leads you from the Lally Homestead into the main pit of the mine and the restored miner's bunkhouse. Pre-registration is required by calling the park ahead of time.
A paddle around French Lake and sweet grass Yoga at Quetico Provincial Park
Meet at the Grassy Beach with your own canoe and required equipment for a leisurely paddle around French Lake. Learn new techniques and plant species along the way and end your day with Yoga at the Teaching Place
Yoga on the beach at Wasaga Beach Provincial Park
Join Certified Yoga Instructors Jennifer Tindale and Leslie Cunsolo of Wasaga Beach Yoga for FREE yoga on the beach! Choose from Yoga for Adults (9 AM and 4 PM) OR Yoga for Kids + Guardians (9 AM and 4 PM). No mats or experience required!
A guided hike around Dedication Trail North at Frontenac Provincial Park
Frontenac Provincial Park and the Friends of Frontenac are celebrating Parks Day and the Healthy Parks Healthy People initiative by holding a FREE guided hike of the Dedication North hiking trail. The hike is of moderate difficulty (but intended for hikers of all skill levels) and will take you through some of the most natural areas of Frontenac Provincial Park
Check Ontario Parks HPHP events tab for a complete list of events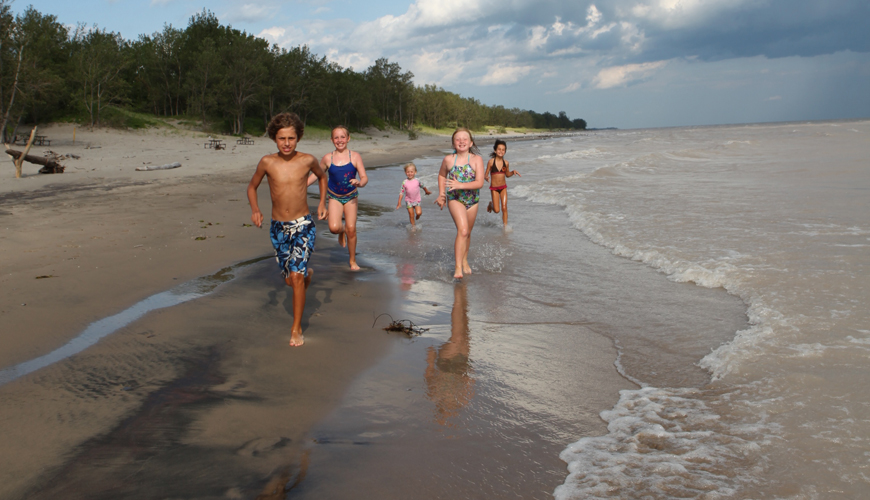 Free Parkbus service for select parks
Parkbus, a not for profit organization, providing express bus service to various Ontario Parks is contemplating plans to offer free bus service to Bronte Creek Provincial Park and Rouge Park on 17th and 18th July respectively as a way of expressing their support for the campaign. (Check back here after a few days for updates on this)
CASIOPA Conference
Join the Centre for Applied Sciences in Ontario Protected Areas (CASIOPA) at the University of Waterloo for one of the first Canadian conferences about HPHP. The conference will be held at the University of Waterloo Federation Hall Conference Centre on 7th May 3:15 pm.  Attendees will include everyone from professionals and students from private, government, NGO, and academic sectors interested in expert advice, participatory discussions, and submitting contributed presentations.
Petition to make Get Outside Day a national holiday
And lastly, you would want to know that Coleman Canada is calling on the support of all Canadians to urge the government to declare July 17th a holiday — National Get Outside (G.O.) Day. If you would like to support the cause, you do so by signing a petition here in getoutsidecanada.com